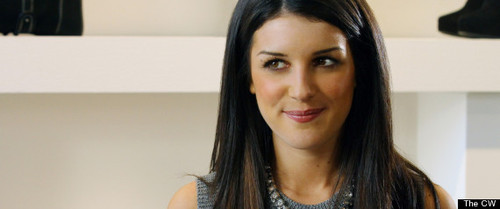 What do Degrassi High and West Beverly Hills High School have in common? Well, not only have they both been the center of television reboots, but Shenae Grimes has walked the halls of both schools. The Canadian actress got her start as Darcy Edwards on "Degrassi: The Next Generation," and after four seasons as a Christian with a bad-girl streak, Grimes packed up her life in Toronto and headed to LA to enroll at West Bev on "90210."
Grimes's character on the "90210" reboot, Annie Wilson, transfered from Kansas wide-eyed and eager, but little did Grimes know that the writers of "90210" were going to put her character to the test. From an obsessive-suicidal boyfriend to becoming a high-class call girl, Grimes has put up with everything and lived to tell the tale.
The gregarious actress sat down with HuffPost TV on a recent press trip and break in Toronto to promote seasons 1-4 of "90210" on Netflix and a new episode tonight on Netflix/The CW. Dressed in black lace and leather, Grimes curled up on a couch to discuss her life as a fashion enthusiast and being an actress in Los Angeles.
How was your transition from "Degrassi" to a big American studio like the CW for "90210"?
Terrifying. Season one was one of the most exciting and one of the most traumatizing years of my life. It was really, really scary and I was only 18. I moved to a different country by myself, all my family's out here [Toronto], and I didn't know anyone out there except for the cast I had just been introduced to.
It was really tough being in the limelight and for some reason, they [the writers] really picked me to pick on and I don't know why. I guess it was because I was the unknown girl and they were like 'fresh off the boat from Canada, we can make her be whatever we want.' It took a while to figure out how to meander through all that media stuff because it's just as big of a part of my job now as showing up on set is, and that's not how it works here [Canada].
Here, I go to work, I do my job and I go home and I'm like a normal kid and no one cares. So it's been weird being put under that magnifying glass. I think I've managed to come out of it unscathed and I am much better off for it. I always say if you're boring, then it's boring for them to take your photo, and it will be boring shots that won't get sold. So you figure out tips and tricks.
Your character, Annie, has been through absolutely everything, from being the new girl to Jasper. Has there been a part of her life that has been your favorite to play?
I love the family life. That was my favorite anyway, when Lori [Loughlin] and Rob [Estes] were around. I love Tristan Wilds with my whole heart. So anytime we get to have that brother/sister energy on set is really fun. Storyline-wise, it's been kind of terrifying. I was just praying every time that the fans still like me.
Has there ever been a worst time?
Jasper was probably one of the worst. It was just so creepy and weird. That whole scenario. Me with the hit-and-run, all of it was just really weird. It was really confusing for everybody.
Do you have any similar characteristics with your character?
No. I mean, now her style because I dress myself. Everyone has been like, 'Annie's style is great this year' and it's because I'm really good buddies with the wardrobe girls so they're like, 'Here's your rack, go to town!' I get to put everything together myself and figure out the looks. So it's definitely been more fun for me because they had me in awful clothes. Everything was American Eagle, it was awful. I was like, 'I know I'm "from" Kansas but I live in Beverly Hills now, can't she start dressing better soon?'
But I'd have to say that's probably the extent of it. We're very different people. I literally speak with a different voice when I'm talking like Annie. It's really funny. She's really sweet, girl next door, wide-eyed and naive and obviously, working professionally since I was 13 now, I have a little bit more life experience than Annie. So I think I'm a little bit more grounded.
I was going to ask you about your style because it has had such a big transition from the beginning.
I know all the characters are super-defined in the way they look. I know that Naomi [played by AnnaLynne McCord] looks like a doll. She looks perfect every time and she's so well put-together. Silver [played by Jessica Stroup] is the quirky, eccentric girl with that weird eclectic vibe. And Ivy [played by Gillian Zinser] is the boho hippie girl and Adrianna [played by Jessica Lowndes] is the vintage, hourglass look with all of her little cupcake dresses. And Annie has just kind of become me a little bit in her style. I don't know about the preppy thing -- I'm just really not that comfortable with that, period. So I veered away from it and they allowed me, and everyone [the fans] is responding well so there's no need for another change.
Were you ever nervous about doing a reboot of "90210" with the big fan following it had in the 90's?
My entire career has been reboots and remakes and spin-offs so obviously there was a different level with "90210." The original "Beverly Hills" made a mark for the teen drama market that never really existed before that show. Ever since then, everything has been a spin-off of it to some extent. So doing the actual spin-off was pretty terrifying because you know how much America loved them and you know what an impact they made on the world. It was a definite risk [for the CW] but they did it in a really smart way.
If you weren't an actress right now, what would you be doing? Would you be working at a magazine?
Not magazines particularly, but fashion for sure. My dream is to really do that full-time but it's building blocks, you know what I mean? I don't believe in rushing into anything. Season 1, they were like, 'You want a line at K-Mart or Target?' But that's not the way that I want to go about things. I'm not a designer and I don't want to claim to be, but I'm not a writer either. It's just stuff I like to do and when I'm passionate about it, I do it. And I'm great friends with Marvin [Scott Jarrett] and Jacyln [B. Jarrett] over at Nylon Magazine, so they've been so receptive in allowing me to get creative and produce content for them. And obviously my little fam at Teen Vogue is great and I'm so honored they allowed me to come in and be a part of the team on the last hiatus.
How does Toronto compare to Los Angeles? What do you prefer?
Prefer? Toronto, for sure. I don't like L.A. I've always said that and people hate on me for it. I don't really like the city. Whenever people ask if you like the city they always say, 'Oh but the weather's amazing' and I'm like OK, but does that really make a city? No. The people do. I love the people in Toronto, that's my favorite part. The east coast has that kind of no-B.S. vibe that I really appreciate. People are more genuine and also more interactive. In L.A., everyone is in their car all the time so you're used to not interacting with people for the majority of the day and it kind of trickles into nightlife and all that. People stay within their circles and there's no real mingling to be had. I find in Toronto, it's much easier to just meet strangers and have really nice exchanges with people that you wouldn't otherwise have exchanges with. So I much prefer the east coast.
What's next for you then?
Hopefully another season of the show for sure, our fingers are all crossed for that and in the meantime, we're all auditioning for films. It's really hard to find stuff that fits into the small window of time that we have. And unfortunately, it's hard to get stuff made nowadays so the quality films that are smaller budgets often have trouble keeping and getting funding. I'm hoping to pursue fashion again. I'm going to go out to New York for a couple of months and I have a couple things lined up that I'm going to pursue -- more internships in different fields.